See on Scoop.it – Share Brokers in India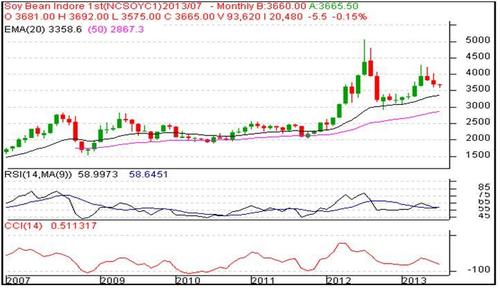 Soy bean future prices are continuously falling from last couple of weeks and expected to continue its decline in coming trading sessions. Oct Soy bean prices are trading at 3139 with immediate support at 2830 break of 2830 will pull Soy bean prices 2545 while inability to break the given level may provide some strength to prices. On the upside immediate resistance is at 3620 above which some strength could be seen for the levels of 3880-4150 levels. Volumes are increasing at lower levels indicating some buying pressure at lower levels. On the downside 20 and 50 days of EMA at 3358 and 2867 may act as stiff support. Stochastic (9, 3, 3) is continue to stay flat in neutral region indicating sideways movement during coming couple of weeks. Above facts are signaling some buying pressure at lower levels and one should enter in buying near supports.
Conclusion:- Based on the charts and explanations our opinion is, buying the soyabean around 2800 targeting 3550/3830 and stop loss below 2545 might be appropriate.
SOYBEAN FUNDAMENTALS:-
Soybean prices at domestic centers traded almost sideways with weak bias as there were no strong fundamentals to keep prices firm. Lack luster buying interest with virtual absence of meal demand for export and sluggish pace of domestic demand keeps millers away from active procurement. Expectation of hefty carryover stocks for next season and ample global supply shall keep soybean prices to stay weak during coming couple of weeks as there seems no major supportive fundamental to keep its prices buoyant.
1)      Soybean declined on favorable weather for soybean planting and thus expected better output. Besides, broad-based selling in the domestic cash market ahead fag-end proved bearish for the market.
2)      The soybean planting is gradually picking -up the pace in all the key growing states followed by better monsoon and favourable weather this season. The area coverage under soybean is likely to slightly improve this season by 3 -4 per cent. India planted soybean in 107.08 lha in 2012 compared to 103.36 lha in 2011. There are reports of slight shift in area from maize to soybean in AP and from cotton to bean in Maharashtra.
3)      The big buyers who refrained from soybean market in recent past showed interest in buying at the current lower and attractive price level. However, India's soy meal exports are still weak and it will only pick -up from October with the new soybean supplies.
4)      The Cabinet Committee on Economic Affairs approved the Minimum Support Prices (MSPs) for kharif crops of 2013 -14 season. MSP of Soybean (Yellow) has been increased by Rs. 320 per quintal over its MSP of last year and fixed at Rs. 2,560 per quintal. The MSPs of Soybean (Black) by Rs.300 per quintal each and fixed at Rs.2,500 per quintal.
5)      The regulator has withdrawn 10% special cash margin on the long side in July contract w.e.f. 27th Jun 2013.
For more commodity news and updates please visit:- http://www.rrfinance.com/Reserch/ResearchHome.aspx
Also find news of Commodity Prices, Crude Oil Technical View, Equity shares, Commodities, Stock Market, Mutual Funds, Share Market, IPOs, Fixed Deposit, Non Convertible Debentures, Bonds and Debentures, Fixed Income. Visit:- http://www.rrfinance.com/